Our teaching team is made up of an eclectic, creative, professional, and skilled community of individuals with a passion for what they do! All of our teachers have native or near-native fluency in German. With backgrounds in Early Childhood Education, Elementary Education, Art, Music, German Studies, Psychology and, Special Education, we are fortunate to enjoy and benefit from their many areas of expertise and experience that enrich our program.
Dr. Katrin Erdmann, Senior Advisor
Frau Katrin has been teaching children and adults at the GAI for over 15 years. A native of Hannover, Germany, she came to Minnesota first as an exchange student and returned 10 years later after her teaching education was completed in Germany, Boston and Silicon Valley. Katrin has been the Goethe-Institute exam head proctor at the GAI for the past ten years and has expert knowledge of the language requirements and levels needed for studying and working in Germany. For the past several years, in addition to working at the GAI, she has been an in-house substitute teacher at the Twin Cities German Immersion School. She is married with two elementary-age sons and lives in St Paul.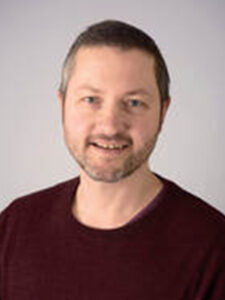 Vincent Büttner
Herr Vincent was born in a small town near Hamburg, Germany. He holds a Bachelor's degree in Social  Work. One of his valuable experiences was working with children with special needs at Rudolf Steiner School in Scotland. Vincent and his wife Tara have a grade school-aged son, John. His native fluency adds exceptional value to the classroom environment as it allows students to learn from a native speaker. In addition, having a male teacher in our program provides a wonderfully balanced classroom dynamic for all boys and girls. He enjoys cooking and golfing in his  spare time. Herr Vincent has been teaching at Kinderstube since 2011.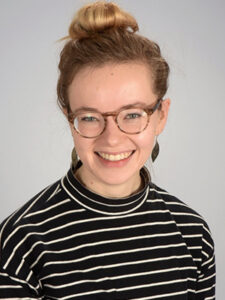 Johanna Foster
Frau Johanna grew up in a bilingual household outside of Chicago and was lucky enough to spend several months of each year with her extended family in Höhenkirchen-Siegertsbrunn, Germany. During high school, she discovered her love for working with children through a theater group designed to interactively teach youth aged 2–10. She obtained a Bachelor of Arts in Sociology from Grinnell College and then spent two years as an Americorps member at an educational access nonprofit. Johanna has worked with children of all ages through a variety of organizations in Illinois, Iowa, and the Twin Cities. These positions have allowed her to gain valuable experience teaching both multilingual children and children with disabilities. She especially loves finding ways to help children engage creatively with words and language. In her free time, you can usually find Johanna reading or enjoying the outdoors. Frau Johanna has been at Kinderstube since 2017.
Sabrina Kolleck
Frau Sabrina was born in Kiel, Germany, and grew up in a small town between Frankfurt and Cologne. She has a degree in Early Childhood Education and Early Childhood Development with a side degree in children's music education. In Germany, she worked with children ages 3 months to 6 years for five years before moving with her family to Minnesota. From 2011 to 2013 she led the GAI's playgroup as well as the parent and teacher "Zwerge" classes in music, art, and dance. She is excited to be back as a virtual Kinderstube@home teacher. In her spare time she enjoys spending time with her 4 children (newborn, 2, 8 and 13), homeschooling, photography, baking, reading, being crafty, doing reenactments of the fur trade era, paddle boarding, and pretty much anything outdoors.
Anna Kyle
Frau Anna was born in Augusta, Georgia, but grew up in many different countries, including Germany, Armenia, and Belgium, due to her father's military career. She learned German through immersion in Bamberg, Germany, and has been passionate about learning, speaking, and teaching foreign languages ever since. She is a recent graduate of Bryn Mawr College where she studied German and Mathematics. Frau Anna has experience teaching German in a variety of roles, including as a private tutor, a teaching assistant at her college, and as a counselor at the GAI summer camp. In addition to her work at Kinderstube, Frau Anna is also a part of the Samstagsschule program. In her free time, Frau Anna enjoys running and reading.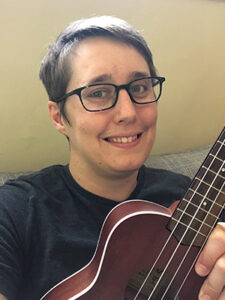 Emma Naragon
Frau Emma grew up in a small town in northeastern Indiana but spent a number of years throughout her childhood and young adult years living with her family in Marburg, Germany. The time that she spent living in Marburg was highly influential and instilled in her a love for German culture and language. In May 2012, she graduated from St. Olaf College with a Bachelor of Music in Music Education. She then spent the following year traveling back and forth across the Atlantic, first working as an Au Pair in Germany, then completing her student teaching in Minneapolis, and finally going back to Germany to work with students in early childhood music programs. She enjoys learning and making music with the children at Kinderstube. Frau Emma has been teaching at Kinderstube since 2013.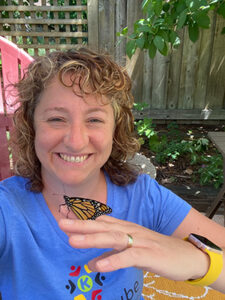 Emily Ruggles Johnson, Director, St. Paul Kinderstube
Emily joined our team in 2018. She majored in German at St. Olaf College and holds a K-12 German teaching license in Minnesota. Most of her time in Germany was spent in Hamburg working as Fulbright English teaching assistant. She also taught junior high and high school German in Stillwater, and kindergarten at the Twin Cities German Immersion School (TCGIS). She also has experience as a program director, running the Kinderclub before- and after-school program at TCGIS. She enjoys gardening, watching shows about gardening, playing the violin, and crafting with her two children, Lukas and Anneliese. 
Andrea Wilberding
Frau Andrea studied German at the University of Minnesota and spent a year abroad studying in Freiburg, Germany, as well as another year living and working as a teaching assistant in St. Pölten, Austria. It was while living abroad in Europe that she discovered her passion for teaching and working with children. She joined the team at Kinderstube in 2018 after returning to the United States. Last year, she spent 8 months living in Fort Worth, Texas and working at the German International School of Dallas. She recently moved back to Minnesota and is so excited to be rejoining the wonderful team at Kinderstube. Her favorite thing about being a preschool teacher is that she gets to spend most of her work day laughing! In her free time, she likes to run, play various instruments, watch movies, play board games, and hang out with her two cats.