Consider making a gift to the GAI today and help us continue to provide high-quality, inclusive, German cultural and language programs for the community. Your donation will directly support programs such as language scholarships for under-served students, free arts and cultural events, and help us maintain our virtual infrastructure and Haus.
Donate by phone
To make donations by credit card over the phone, please call the GAI office at 651-222-7027 ext. 107.
Donate by mail
Please mail checks to:
Germanic-American Institute
301 Summit Avenue
St. Paul, MN 55102
Questions? Contact: development@gai-mn.org
Your support matters. See your impact.
The Germanic-American Institute welcomes thousands of patrons to the grounds of the GAI every year for events large and small. We welcome students of all ages to our high-quality German language courses virtually and in-person throughout the year. Our Kinderstube German Immersion Preschools are invite children 3-5 years old every day to understand and develop social and emotional skills together whether native speakers or just beginning their language learning journey.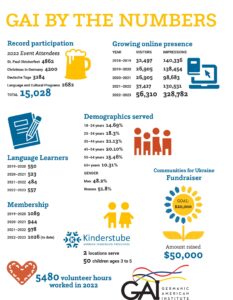 Your support makes all this and more a possiblity.
We're growing! See your support in action with our GAI By the Numbers info sheet.
Other ways of giving
Planned Giving
Leaving a gift to the Germanic-American Institute in your estate plan is a great way to support German language and cultural offerings for years to come. Call us at 651-222-7027 ext. 107 or email development@gai-mn.org to learn more.
Corporate Matching Donations
You can double or even triple the impact of your donation to the GAI with a matching gift from your employer. Employer matching gifts are a simple way to maximize your donation.
Matching your donation is easy! Contact your human resources or business office for more information. Most companies ask you to complete and return a short form and may require the GAI's tax identification number: 41-6025383.
If your employer does offer a matching gift, please send your completed form to:
The Germanic-American Institute
301 Summit Ave
St. Paul, MN 55102
Questions about matching donations? Contact us at development@gaimn.org
Amazon Smile
Did you know that you can support the GAI while doing your shopping online? You can do your regular Amazon shopping through Amazon Smile and Amazon will donate 0.5% of your eligible purchases to the Germanic-American Institute.
Giving Assistant
Use Giving Assistant to support the GAI when you shop at retailers like Macy's, Sears, and Bed Bath & Beyond.