Raising Funds for Refugees in Germany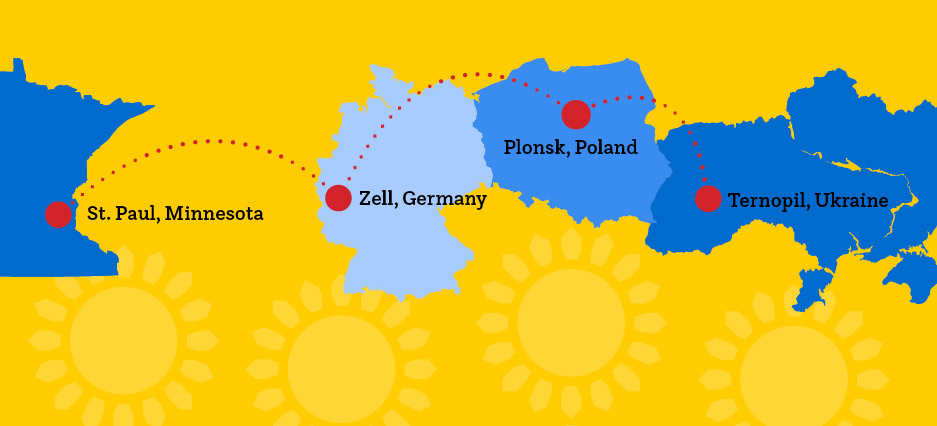 Friday, April 15, 2022 - Saturday, May 28, 2022
Thank you, Communities for Ukraine
The outpouring of support for our Communities for Ukraine fundraiser has been truly incredible! We more than doubled our goal of $20,000 to support Ukrainian refugees living in the community of Zell. The funds are already being put to use to prepare apartments for families, buy appliances, and stock a food shelf. Refugees are now also arriving in Minnesota with assistance from the Ukrainian American Community Center. You can also support their Adopt-a-Family initiative.
As part of our commitment to advancing peace and justice, the GAI has launched the "Communities for Ukraine" campaign to support Ukrainian refugees who have fled to our adopted "sister cities" of Plonsk, Poland and Zell, Germany. Together with many partners throughout the Twin Cities, we hope to raise $20,000 by May 28 to provide critical aid to refugees who need housing and immediate economic support. There are now more than 300 refugees in Zell and nearby villages, with more arriving daily. Funds will go directly to the town of Zell to help them house more refugees.
Here are just a few examples of the work that is being done:
A semi-truck of essential goods from Zell was loaded and delivered to Ternopil, Ukraine, including critical medical supplies donated by the local hospital
Plonsk, Poland has used monetary donations from the residents of Zell to provide immediate support for refugees arriving in the city
Zell residents and organizations are creating warm, safe and welcoming spaces for refugees to settle
To learn more about the GAI's connection to Zell and its sister city of Plonsk, which is daily receiving more refugees from the war, please read this letter from our Board Chair Danika Hoffmann.
From everyone at the GAI, thank you for considering a donation to help meet urgent needs. We will post updates and share stories on this page, so please continue to check back or follow us on social media at #GAIforUkraine.
We and many around the world stand in solidarity with the people of Ukraine and their right to a peaceful, independent future.
Your donation is fully tax deductible
Friday, April 15, 2022
-
Saturday, May 28, 2022
Related Events