The outpouring of support from the GAI community has been impressive! We more than doubled our goal of $20,000, ending with a total of almost $50,000! The donations have already been used to buy appliances and stock food shelves, with weekly updates coming from the Bürgermeister's office in Zell.
Thanks from the community of  Zell
A note from Rosemarie Mandernach about the food shelf is one of many expressions of thanks from Zell: 
"We took care of more than 100 Ukrainian people, young ladies with children, old people, families with 5 or 6 members. All of them are very…grateful. We are very proud to do this kind of work [and] we are grateful [to you] too."
Besides heartfelt thanks from the community of Zell, Bürgermeister Döpgen shared a touching letter written in German by Ksenia, a Ukrainian mom of two boys. She thanks him and the people of Zell for not only providing a much needed washing machine, but also for helping them feel welcome and making their world bright again. Read the full letter here.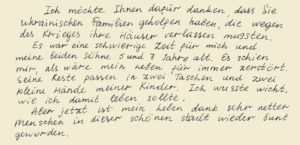 GAI volunteers travel to Zell
In late May, two members of the GAI Haus & Grounds team, Marty and Penny Loso, arrived in Zell to help with apartment renovations. Marty updated us on their stay: "This morning we met the Baumeister, Franz-Josef Nolden. In our car, we followed him across the river to an old schoolhouse halfway up the hill. Penny and I are renovating about 8 rooms on the second floor. Today we stripped everything off of the walls, cleaned them, replaced trim and patched any holes (some small and some LARGE). Penny picked up and bagged lots of junk/litter, swept (several times) and washed windows. Tomorrow we begin to paint."