Today we celebrate women, and we'll do it again tomorrow.
By Audra Grigus
With this year's theme for International Women's Day being #BreakTheBias, here's a short list of German women throughout history who did just that.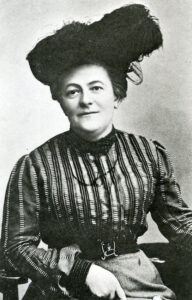 Clara Zetkin (1857-1933) was a German feminist, activist, author, and Socialist. She is credited with being the founder of International Women's Day as she made the appeal during the second international conference of socialist women in Copenhagen in 1910. Her work focused on women's suffrage through socialist means and an outspoken opposition to WWI. Zetkin is honored today through memorials and through the German party Die Linke's annual Clara-Zetkin-Frauenpreis.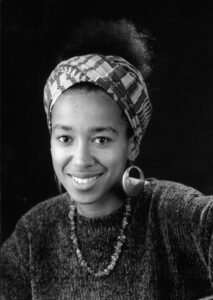 May Ayim (1960-1996) was an Afro-German activist, educator and writer. Ayim's thesis was the first academic study of Afro-Germans and their experiences and history. This work, with the help of Katharina Oguntoye and Dagmar Schultz, was turned into the first book to describe the everyday racist encounters Afro-Germans faced called Farbe bekennen (Showing Our Colors: Afro-German Women Speak Out) in 1986. The book is monumental as it is also the first time the term "Afro-German" was used in writing. Ayim also helped found the Initiative Schwarze Deutsche und Schwarze in Deutschland (Initiative of Black Germans and Black People in Germany).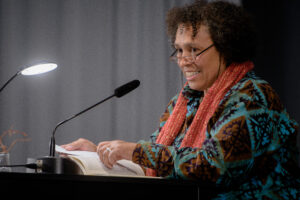 Katharina Oguntoye (1959) is an Afro-German historian, writer, and activist. She is often recognized for her co-editing role on Ayim's book, but she founded the nonprofit intercultural association Joliba and co-founded the Afro-German women's group ADEFRA. She went on to publish her own thesis "Eine Afro-Deutsche Geschichte: Zur Lebensituation von Afrikanern und Afro-Deutschen in Deutschland von 1884 to 1950" (An Afro-German Story: About the Living Situations of Africans and Afro-Germans in Germany from 1884 to 1950) in 1997, and a new edition was published in 2020. Oguntoye has been involved in the lesbian movement in Germany and internationally since 1983, and was honored in 2020 with the Lesbian Visibility Award for Berlin.
Käthe Kollwitz (1867-1945), a well-known name around the world, was a painter, printmaker, and sculptor. Her depictions of women, including her self-portraits (of which there were many), were important in a time where men in art reigned and women struggled with finding their voice. The loss of her son during WWI is known as the origin of her more melancholic works. While her work may be best known for its socially critical subject matter, her technical ability, willingness to experiment, and resilience have also contributed to her remembrance through time.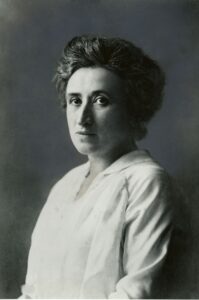 Rosa Luxemburg (1871-1919) was a Polish-born, naturalized-German revolutionary and political theoretician. She is best known for being an unwavering activist in the first Marxist Social Democratic Party and within the Spartacist League. Her work and beliefs meant that she found herself with jail sentences on more than one occasion, however that never dimmed her spirit or opposition. She was avidly against WWI and the Bolshevik uprising. After her murder by the Free Corps (Freikorps) in Berlin in 1919, her messages lived on with the publishing of a pamphlet she wrote by a former lover that criticized the suppression of the democracy in the Bolshevik revolution.
Steffi Jones (1972) is a German-American football (soccer) manager and former football star. Jones found football in the midst of tumultuous childhood experiences, and with practice and dedication, her talent blossomed. Her experiences are laid out in her autobiography Der Kick des Lebens (The Kick of Life), published in 2007. After her successful career as a defender, Jones became the first-ever Afro-German Head Coach in the history of the Germany Women's national soccer team in. In 2021, she served as the president of the Organizing Committee for the FIFA Women's World Cup in Germany. Today she continues to be an Afro-German and feminist symbol, as well as an inspiration to LGBTQIA+ folks in Germany.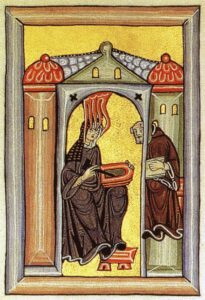 Hildegard von Bingen (1098-1179) was an artist, composer, theologian, author, medical writer and practitioner during the High Middle Ages. Starting at the age of 3, Hildegard began having visions. At the age of 18, Benedictine nun at the Monastery of Saint Disibodenberg and her confessor told her to write down her visions. It took her 10 years to write Scivias (Know the Ways). Pope Eugene III urged her to continue writing after having read this work, and she would later go on to write Book of the Merits of Life and Book of Divine Works. Through her visions, she saw the harmony of God's creation and how men and women both fit into that, becoming quite the controversial opinion for the time. She was officially canonized in 2012 by Pope Benedict XVI as a Saint and given the title Doctor of the Church.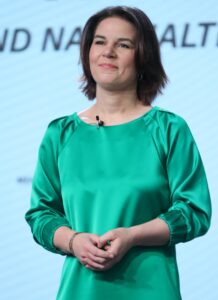 Annalena Baerbock (1980) is best known today for her current role as Germany's first female Federal Minister of Foreign Affairs within the Bundestag. Early in her career, she knew that she was interested in politics, and she ended up studying political science and public law in Hamburg and earned a Master's Degree in international law at the London School of Economics. When she was 25, she joined the Green Party and after only four years she became the leader of the party in the state of Brandenburg. Baerbock was only 40 years old when she won the nomination against her co-leader, Robert Habeck, to be her party's first-ever chancellor candidate in a national election. Despite the misogyny she faces on a regular basis for her political standing, she is a leading voice in climate initiatives, current correspondences in Russia's invasion of Ukraine, and foreign policy as a whole.