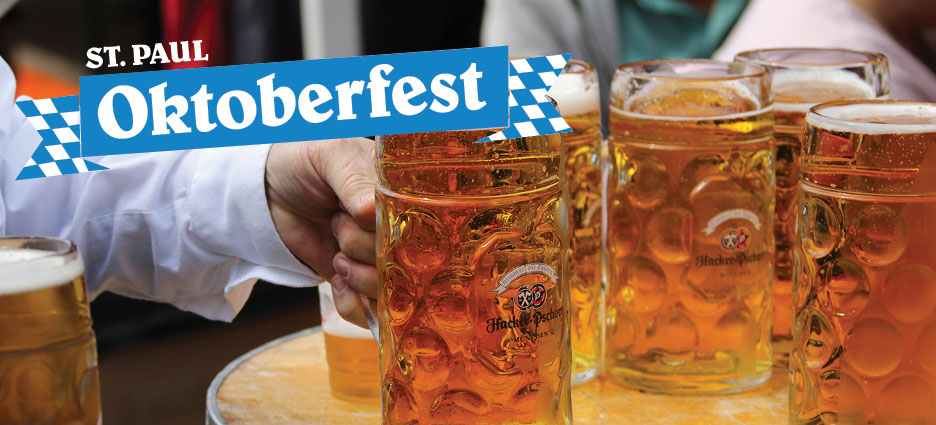 Paulaner Bar
Paulaner Oktoberfest Bier · 6.0% ABV
This full bodied golden Oktoberfest lager is the only beer served in the Paulaner Oktoberfest tents today. It is the pinnacle of German brewing—wonderfully mellow with a balanced harmonious taste. It has a strong note of malt and the pleasant fragrance of hops.
Hacker-Pschorr Oktoberfest Märzen · 5.8% ABV
Bavarian slow roasted, caramelized to a rich, red amber color combined with the purest spring waters from the alps, exlusive yeast and the finest Hallertau hops.
Hacker-Pschorr Münchner Dunkel (Munich Dark) · 5% ABV
A glorious beer—full bodied flavor with a slight hint of caramel, nuts, and candied fruit. A slightly sweet roasted malt note harmoniously rounds off the delicate bitterness of the hops.
Paulaner Hefe-Weizen · 5.5% ABV | 16 IBU
Regarded as "the #1 wheat beer in Germany and one of the world's favorites", Paulaner Hefe-Weizen is a traditional, unfiltered Hefeweizen-style wheat beer that is naturally cloudy and silky gold under a strong head of foam. Proudly boasting a perfectly balanced mix of aromas and refreshing taste.
Paulaner Grapefruit Radler · 2.5% ABV
Naturally cloudy grapefruit flavoring meets the tasty Münchner Lager. This tangy thirst-quencher is perfectly fruity and a little bit tart, 100% natural, and not too sweet.
Utepils Bar
Utepils Receptional (German Festbier) · 5.9% ABV | 28 IBU
An Oktoberfest beer brewed to be highly drinkable with balance, smooth flavors of malt and biscuit.
Utepils Helles (Munich Style Lager) · 5.1% ABV | 21 IBU
Brilliant and golden, this lager is the epitome of elegant simplicity and everyday drinkability. More malt forward and "bready" than a pilsner, with a touch of hop bitterness from Germany's Hallertau region with a clean and refreshing balance. This is the style that made Munich beer gardens world famous.
Utepils Vera Cruz (Vienna Lager with Lime) · 5.3% ABV | 25 IBU
Vera Cruz comes to you with a few stamps on its passport – via Mexico by way of Germany. The result is a full-bodied and smooth lager with a touch of tartness on the tip of the tongue.
Utepils J's IPA (India Pale Ale) · 5.4% ABV | 66 IBU
Malt takes a backseat to clean, plesant bitterness and hoppy aromas of pine, citrusy grapefruit, and pineapple, in this easy going IPA.
Wine
Pratsch Grüner Veltliner (White) · Austria
Organic fruit forward white wine with a touch of apple, peach and apricot with a slight spice. Fresh and tangy, fine spices, white pepper and round body.
Pratsch Zweigelt (Red) · Austria
Dark red color with violet hues. Dark red fruit aroma with black currant, spices, and cherry. Raspberry, cherry, spices and black pepper on the palate with well integrated acidity. The palate does provide plenty of juicy generously ripe fruit and a dry finish.
Starling Castle Red · Rheinhessen, Germany
The delicately sweet and fruity character of Starling Castle Sweet Red combines luscious flavors of raspberry and cherry with sweet tannins.
*Alcohol wristbands required for those 21 and older will be for sale on site for $5, photo IDs are required.