Our teaching team is made up of an eclectic, creative, professional, and skilled community of individuals with a passion for what they do. All of our classroom teachers have native or near-native fluency in German. With backgrounds in Early Childhood Education, Elementary Education, Art, Music, German Studies, Psychology, and Special Education, we are fortunate to enjoy and benefit from their many areas of expertise and experience that enrich our classroom environment.
All teachers meet education and experience requirements appropriate to their position, as required by the Child Care Licensing Division of the Minnesota Department of Human Services. The Germanic-American Institute regularly conducts professional development training for teachers. Our staff maintains current certification in pediatric First Aid and CPR. Criminal background checks are completed on each employee.
Leadership Team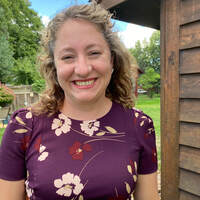 Emily Ruggles Johnson, Director – Saint Paul
Emily joined Kinderstube in 2018. She fell in love with the German language and culture during a high school exchange program, then again while teaching in German schools in Hamburg, Germany. She loves to play the violin, collect plants native to Minnesota, raise Monarch butterflies, kayak, and engage in messy craft projects with her children, Lukas and Anneliese. Her favorite aspects of working at Kinderstube are coaching teachers and planning professional development, supporting families, and, of course, being immersed in the joy and wonder preschoolers bring to the world.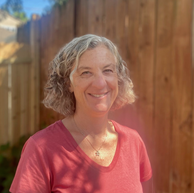 Lisa Ragan, Director – Minneapolis
Lisa joined Kinderstube in 2021 when she moved back to Minnesota after 30 years in Monterey/Carmel, California. She studied German at Minnehaha Academy, St. Olaf College, Monterey Institute of International Studies, and Concordia Language Villages (Waldsee). During high school, she participated in an AATG exchange program and spent three months living with the Edelmann family in Graben-Neudorf (near Stuttgart) and spent a semester studying at the University of Paderborn her Sophomore year at St. Olaf. She enjoys kayaking, outrigger canoeing , gardening, skiing, dancing and exploring new hiking trails and state parks with her husband, Bill and dog, Libby. Working at Kinderstube offers her the perfect opportunity to combine her love of German language and culture with a passion for and commitment to early childhood education.
Saint Paul Teachers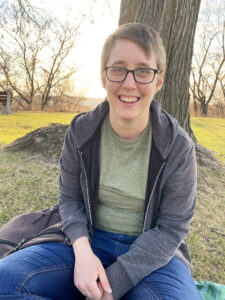 Emma Naragon
Emma joined Kinderstube in 2013. She spent time living in Marburg, Germany as a child and spent a high school exchange year there. She also worked as an au pair in Kassel for a summer. She enjoys playing piano, eating good food, traveling, being in nature, and reorganizing her bookshelves. She loves singing and making music with her students, having conversations with them and hearing their thoughts, and joking and being silly with them.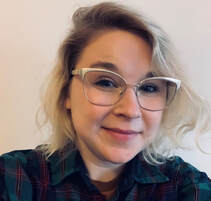 Jenna Gullickson
​Jenna joined our St. Paul team in 2021. Her love of music sparked her interest in German, and she studied Flute Performance and minored in German Language at the University of Minnesota. During her semester abroad in Munich she loved experiencing the different pace of life, the amazing food, and spending her weekends hiking in the mountains. Some of her hobbies include making pottery, baking, being outdoors, and discovering unique facts and stories through books and podcasts. She has taught music lessons for many years and is inspired by the creativity, curiosity, and humor of her students.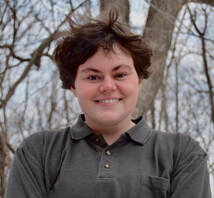 Olivia Jones
Olivia joined Kinderstube in 2022. She began learning German in high school and went on to major in it at St. Olaf College, where she also studied Education and Linguistics. Aside from teaching, she enjoys pottery, painting, swimming, hiking, watching Jeopardy and pretending to be a film critic. She loves helping students cultivate their sense of curiosity and self esteem, especially when she can play and crack jokes with them at the same time.
Alyssa Taiber
Alyssa joined Kinderstube in 2023. She was born in Munich, Germany but immigrated to South Carolina in 2005 together with her family. As the child of a German father and Filipino-Canadian mother, her first experience with language and culture immersion was at home. She grew up learning and speaking German alongside English. She enjoys working with preschoolers as "their cups are empty" and their minds are so open (in receiving knowledge about themselves and the world around them). They truly embrace the "mess" that comes with learning and approach it with a type of lightness and joy that is a strong reminder to us all to find joy in the simple and remain curious. Alyssa has been a movement artist throughout her life (she has specialized in movement disciplines such as yoga and martial arts) and allows her coaching experience in these worlds to translate through the emphasis of physical movement and body awareness in children. When not training or in the classroom, you can find her visiting the local libraries, exploring new cafes and restaurants in the Twin Cities, paddleboarding or kayaking, taking walks in nature, journaling, reading, or drinking tea.
Minneapolis Teachers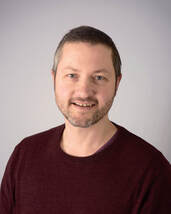 Vincent Büttner
Vincent joined Kinderstube in 2011. He grew up outside of Hamburg, Germany. He loves to play golf in his free time, and he's amazed to think that our children understand and can express themselves in a second (or even third) language when they leave our program at such a young age.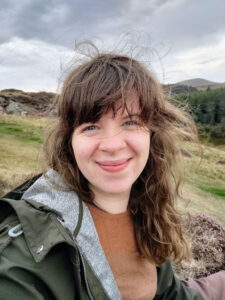 Elle Gosswiller
Elle joined the Kinderstube team in 2023. She is a Minnesota native, but she spent three years of her life living and working in Berlin, Germany, where she got the chance to learn and speak German. Through some classic German poets, she gained a new appreciation for the beauty of the language and grew to enjoy the rewarding process of language learning through immersion. Her hobbies include appreciating beautiful clouds, cross stitch, movies, baking, doing anything with her 7 siblings, and exploring new cities or forests. Elle loves playing with preschoolers and is inspired by how they see adventure everywhere. Elle works at both the Saint Paul and Minneapolis Kinderstube locations.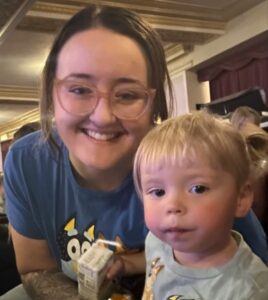 Chloe Braunmiller

Chloe joined Kinderstube in 2023. Originally from the Upper Peninsula of Michigan, Chloe started studying German in high school and continued to major in German and Psychology at the University of Michigan. After a semester abroad in Tübingen, Chloe moved back to Germany and lived in Stuttgart for 4 years. Chloe is passionate about social-emotional growth in children and enjoys watching her students learn and grow throughout the school year. In her free time, Chloe enjoys spending time with her daughter, reading, and traveling.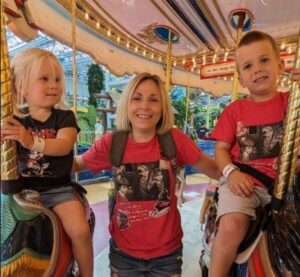 Silvie Greder
Silvie joined Kinderstube in 2023. She grew up in Oxford in the United Kingdom speaking German with her Austrian mother. She spent every summer and winter holiday as a child with her beloved Omi and Opa in Salzburg. They showed her the beauty of the mountains, lakes and cakes! After studying German at the University of London (which included a year abroad working in Vienna) Silvie had a career change in 2014 which led to a teaching qualification and 4 years working at a European School in Oxfordshire. Silvie has a passion for the German language and culture which she has had the opportunity to experience throughout her life. Preschoolers are her favourite age to teach because of their natural curiosity and how much fun can be had in learning through play. When not chasing after her own children Silvie likes to listen to Harry Potter audio books, cook Austrian food like Kaiserschmarren and attempt to cross stitch or knit.
Riley Knable
Riley joined the Kinderstube team in 2023. She was born and raised in St. Paul, and spent the last year and a half living in a little village outside of Munich working as an Au Pair. There she started learning German, at first just by playing and engaging with the children and then later attending language courses. In her free time she likes to play soccer, draw and paint, and tend to her house plants. She enjoys working with children because she gets to see and celebrate their victories, and watch them grow into their own individual selves.
Substitute Teachers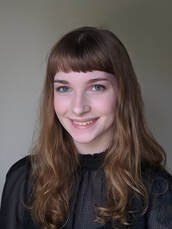 Lilia Conklin
Lilia joined Kinderstube in 2020. She learned German in high school and majored in German studies in college, and also studied abroad in Berlin and Vienna. She's obsessed with her 16-year-old parrot companion, Beaky, and her 30+ houseplants. She loves creating and experiencing all kinds of art and music, and having a good laugh with friends. She's inspired by the plasticity of young minds and the ways children transform themselves. Each day brings new ideas, new friendships, new skills, new achievements.
Kiera Stallings
Kiera joined the Kinderstube team in 2023. She is originally from Georgia and moved to Minnesota in 2019. Her love of the German language began when her daughter was 3 years old and wanted to learn a language, and they chose German. They did preschool app games together and learned the alphabet, colors, numbers, and simple phrases. After moving to Minnesota they picked up learning German again, along with her son, who was about 4 years old. She discovered the GAI researching language classes for children and now the whole family has taken courses, gone to summer camps, and Kiera's youngest son also attends Kinderstube. Kiera enjoys camping, hiking, traveling, reading, and crafting. Preschool is her favorite age of children. They are showing their personalities, finding their interests, and they ask great questions about the world.