German Film Field Trip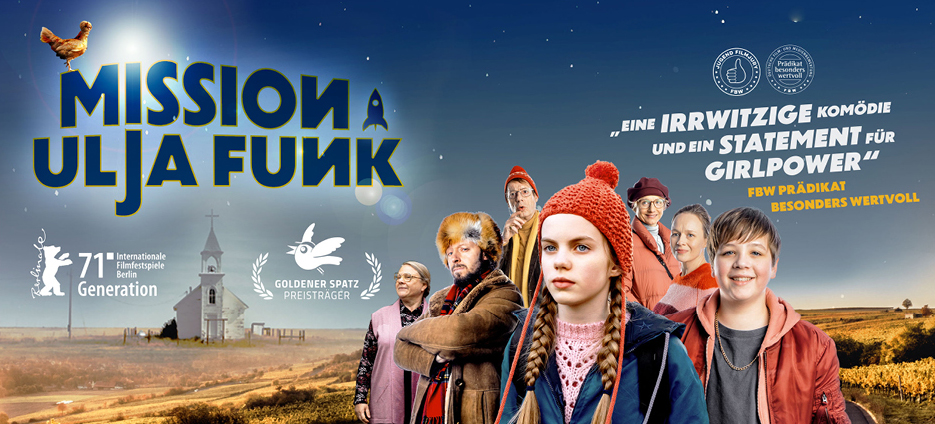 Friday, May 5, 2023
10:00 AM - 11:30 AM
Mission Ulja Funk (2021)
When Ulja (12) is prevented from pursuing her passion, astronomy, she decides to take matters into her own hands. With a stolen hearse and a 13-year-old classmate as a driver, she makes her way across Eastern Europe to watch the impact of an asteroid. In doing so, she not only has to shake off her pursuers, but also her pragmatic view of friendship and family. Shown in German, with English subtitles.
REVIEWS
"Fresh, joyful, and never patronizing the complex, fearless protagonist, Mission Ulja Funk feels like one of those movies for which it feels the phrase 'for the young and young at heart' was invented."  —Alexandra Heller-Nicholas, AWFJ Women on Film
"The film has its spirited energy, well-attuned performances and a direction that offers a still refreshing take of the old road-movie film concept." —Vassilis Kroustallis, Film Is A Fine Affair
Contact the Black Forest Inn at info@blackforestinnmpls.com  or 612-872-0812 for information about German lunch options after the film.
IMPORTANT
In order for the GAI to screen this film, we must sell a certain number of tickets by April 5.
Please be aware that the film will be canceled if there is not enough interest. Registrants will be notified by phone or email if the program is canceled.
Friday, May 5, 2023
10:00 AM
-
11:30 AM
$6
Related Events