State Capitol and Rathskeller Tour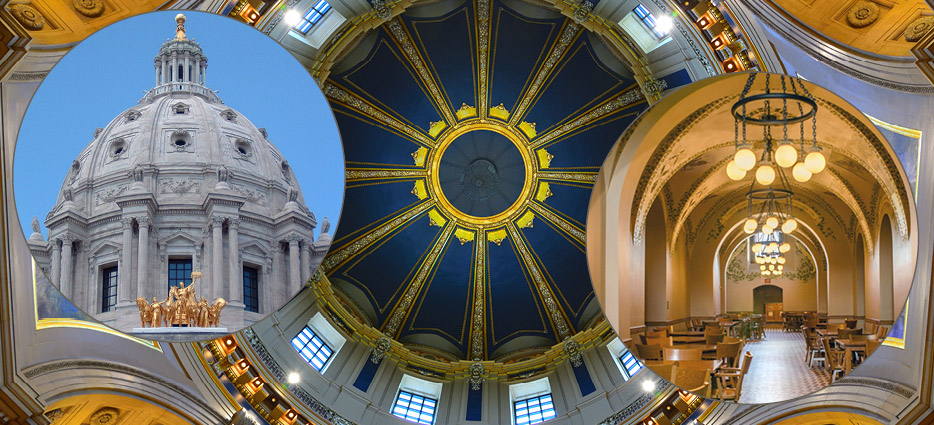 Friday, April 14, 2023
11:00 AM - 12:30 PM
Marvel at the grand murals, sculptures, and lavish decorations, and learn about the elaborate conservation work performed to bring the art back to its original appearance. You'll hear stories about the artists, learn about the muralist movement in America, and see how the art, architecture, and overall decorative plan harmonize to make our capitol, which opens in 1905, one of the premier public buildings in the United States.
This special Arts and Artists tour includes the capitol's rathskeller! Architect Cass Gilbert designed the building with Minnesota's German immigrants—the state's largest foreign-born population at the time—in mind. He also added rathskellers to two of his other projects, including the Woolworth Building in New York City.
In a further connection, the architect of the GAI Haus, Thomas Gannett Holyoke, worked for Cass Gilbert and was the chief draftsman in the design of the State Capitol building!
After the tour, stay for lunch in the Rathskeller Café, which is open during the legislative session.
Tickets: $15, lunch on your own
Meet at the State Capitol—participants are welcome to park at the GAI and walk (1 mile). We will depart from the GAI at 10:30 a.m. For those who would like to park at the Capitol, please see information about visitor parking here.
Registration is closed.
Friday, April 14, 2023
11:00 AM
-
12:30 PM
$15
Related Events