Grillabend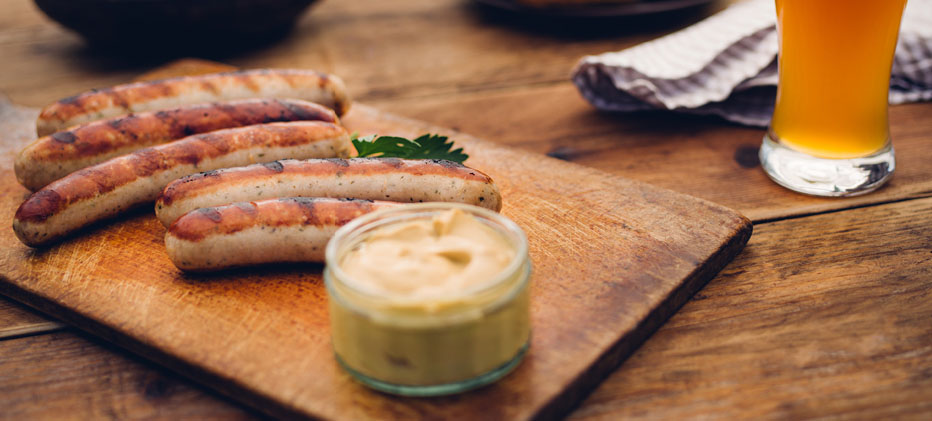 Thursday, July 28, 2022
5:00 PM - 9:00 PM
Registration for dinner is closed. Please stop by for a Hofbräu beer, music, and a treat from the MilkMart ice cream truck.
You asked for the return of the Grillabend (grill evening)—a relaxing evening on the GAI lawn. We'll set up the Biergarten tables, provide some acoustic music for "Stimmung", and grill up a sausage-lover's and a vegetarian dinner option.
The dinner menu includes a sausage sampler platter piled high with three kinds of sausages: a Grillwurst (served "Imbiss" style with curry sauce if desired), a traditional bratwurst, and a smoked sausage known as a "dinner sausage." The sausages are made by Metzgermeister (master butcher) Martin Ziegler from Deutschland Meats in Lindstrom, Minnesota. Sides are Krautsalat (German coleslaw) and a Brötchen. Our meatless option is a grilled veggie burger.
Beer for the evening is draft Hofbräu Original and Dunkel for $3 for members—only $5 non-members—but why not become a member and save a couple of bucks per beer? Wine and soft drinks will also be available.
For entertainment, Mississippi Valley Orchestra's summer Crewtet will play string versions of pops favorites.
If you plan to eat, dinner tickets must be purchased by July 22. Food purchase is not required to attend—stop by for just a beverage and some good company.
Volunteers Needed!
Grill up brats or serve beers as a bartender. Have a great time, support the GAI, and enjoy a free dinner. Click here to sign up for a shift.
Thursday, July 28, 2022
5:00 PM
-
9:00 PM
Related Events